Women at Eastern Hills offers a community to care for, equip, & encourage you in your faith. No matter where you are, we have groups, classes, and special events for you.
---
WOMEN'S BIBLE STUDIES:
Are you looking for a place to connect with other women and learn to study God's word? This Fall, our Women's Bible Studies will study the book of Romans. Our classes are open to all women, whether you are new to studying the Bible or have been a longtime student. We've got several options for you to choose from, so find the one that best works with your schedule.
---
MOMS AT EHILLS:
moms at ehills creates an inviting place for moms from all walks of life with kids ages birth - Middle School to build community with one another, fostering a safe environment for moms to explore how Jesus Makes Life Better.

Join us for:
Encouraging content and conversations • Coffee and warm breakfast • Curated crafts

For our Fall Semester, moms at ehills will be meeting in-person in homes every other Tuesday beginning the week of September 22.
Registration for our Fall Semester is $39 and is now open.
---
GATHER WITH US:
Gather At Home - Women's Event
How many of us are feeling tired, worn out, disconnected, and discouraged this year? Everything feels so confusing, so divided, so isolating, so… Hard. Can you relate? We need community now more than ever before. We need connection, encouragement, and refreshment. We need to fill up our tanks so we can continue to persevere through a season that feels like it will never end. So… What if, instead of looking at what we've lost, we shift our focus? What if we look for the ways God is working in this season? In our lives… In our homes… In us?
Join us for Gather at Home, an event hosted by Women at Eastern Hills, on Friday, October 2 from 7-9pm. We've got Home Hosts ready to invite you into their homes so that you can experience community, connection, and encouragement. All you need to do is sign up and we'll take care of the details! Not ready to get together with a group of people? You can still join us! Register to watch at home and we'll send you a link so you can be encouraged too.
Registration opens September 12. Contact Tami Burchett, Women's Director, at with questions or for more information.
Get Out of Your Head Book Club:
The greatest spiritual battle of our generation is taking place between our ears. Again and again, we allow lies from the enemy to influence our thoughts about who God is and how He is at work in our lives. But we have the opportunity to stop our spiraling minds and escape our toxic thinking patterns. In Get Out of Your Head, Jennie Allen shows you how to work with God in renewing your mind. When you take every thought captive and reclaim your thinking patterns from the lies of the enemy, you are set free to set others free. In a very real way, your thoughts can change the world. It starts in your head. And from there, the possibilities are endless.
You're invited to join us online for our Get Out of Your Head Online Book Club! We'll connect weekly on Zoom on Wednesdays beginning September 9 you choose mornings OR evenings.
We believe that building community is essential - especially in this season... Will you join us?
---
EXCITING NEWS!
We're excited to announce that we have a new Women's Director, Tami Burchett!
Tami was born in Upstate New York and moved to Colorado in 1999 after completing grad school. She has a Masters in Marriage and Family Counseling from Gordon Conwell Theological Seminary. Tami has been married to Kevin for 19 years and they have two teenage daughters, Brooke and Mac. Tami has been involved with Women's and Student Ministries and is passionate about pouring into women of all ages. In her spare time, she loves cross stitching, puzzles, having coffee with friends and going on family vacations.
We couldn't be more excited for Tami to step into this role and see how God uses her heart and passion as she serves Women at Eastern Hills.
---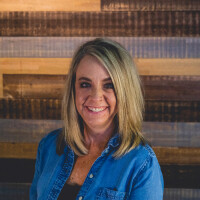 Liz Pheteplace
Community Pastor
E-Mail: