#JMLB | Chelley's Story
Pray through all the Phases

"The Lord your God is with you, he is mighty to save. He will take great delight in you, he will quiet you with his love, he will rejoice over you with singing." Zephaniah 3:17
A year and a half ago my husband and I began to try for our second baby. At first, we felt confident that it would happen immediately, as it did with our first. But we were humbled by the consistent negative pregnancy tests for over a year. At first, we didn't worry, but as friends and family asked if we would try for another we began to ask ourselves. There was anxiety, confusion, health worries, and questioning God's timing.
Then, after months of different phases of worry, and letting go and trusting God, finding this peace in his love, in the least expected timing, we found out a miracle was underway as I discovered I was pregnant.
At 6 weeks though I was hit by extreme Hyperemesis Gravaderium, uncontrollable morning sickness. All of a sudden I was forced to give up my fitness classes. Even worse, I found myself in the hospital for ivs, severely sick and dehydrated. In the darkest times, it was so hard to pray, again full of worry and frustration. It took a lot, but I took faith in God's plans and intentions for our baby if it was meant to be.
It can be so hard to give up control and put it in God's hands. But there can also be a huge relief when we let go and trust that everything is happening for a reason.
In the first several months of this pregnancy, I was bedridden. So sick I literally couldn't move. So dehydrated from Hyperemesis that I had 3 separate trips to the er. I had to stop teaching. I couldn't even take care of myself, let alone my 4-year-old. It was discouraging, and stressful. I held onto faith. Trying to trust the phase of life and find calm in Jesus. And now, I am so blessed for God to open the door once again to teach…. To move, to be alive!
Pregnancy is beautiful but scary. Being grateful for each day is a blessing.
Yet now we are in this moment, waiting in wonder, expecting baby Number two. I am feeling much better, am back to teaching classes. Each day continues to be full of faith, lots of rest, and allowing God to use me as a mommy and fitness instructor where I am still able. I have been told I am an inspiration by many attendees in my classes. I feel like a stronger, more empathetic instructor and person through my recent experience.
Starting a family, creating a life is a huge commitment. For me, life is about taking chances, creating something bigger than myself, yet something I am already a part of. It's an amazing calling. And it's an indescribable blessing to experience.
"When God closes a door, somehow he opens a window."
I heard this voice deeply resonate inside me as I held my firstborn, a healthy newborn baby boy in the hospital 4 years ago. He came two weeks early. In an instant I had given up the schedule I anticipated. I thought I had more time to teach my kindergarteners. It was opening night for the show I was CO-directing. My plans had shifted, but God's plans were even better.
When we choose to keep God in the center, our talents are awakened, and we feel more aligned to our calling which naturally can be our deepest passions.
It has been four years with the most amazing blessing. My son. And many opportunities that I am sure never would have happened if I hadn't trusted God's plans. I spent the first year with my newborn focusing on becoming a mommy. I experienced so many emotions as a new mommy. Prayer, Bible quotes and devotional time gave me strength and wisdom when I worried so much about how to care for another life.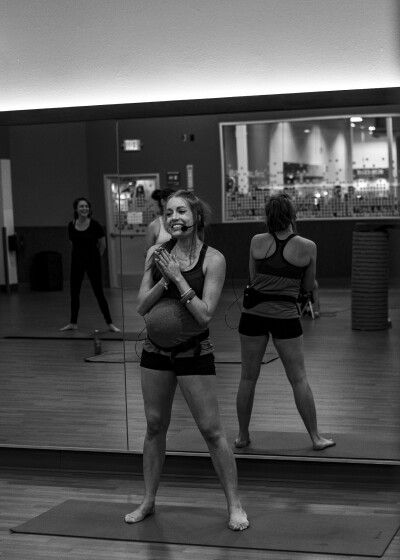 It was in this special time that I rekindled my passion for yoga. I grew up figure skating competitively. With a dance and theater college minor, I changed my competitive foundation to more of a passion and became passionate about creating community rather than competing. As time progressed, I was asked to teach dance for my church's wellness ministry. Through another instructor there, I then came across the Life Time Kids Academy job position. I took the leap to apply, and was hired teaching kids yoga, Zumba Kids, sports skills, tumbling, arts, and crafts!
Then the next-door opened for me as an employee I found the opportunity to do my Yoga Teacher Training.
With a lot of faith and prayer to keep Christ in the center and all the support from my hubby, I embarked on my Yoga Alliance 200 hour certification. Sacrifice, and balance with a 1-year-old, we met to trade cars and exchange care time, sacrificing family time to make it happen.

I said a prayer, that I would always prioritize my baby and family first if God's plan allowed me to also teach yoga and fitness classes, that I would keep God in the center of family time, and that he would use me where I was called to teach.
Sometimes doors are opened, an opportunity presents itself. And other times it can feel like there is no hope. There can be delays, waiting and rejection. But when we choose to pray in the hard times, as well as remembering to thank God for our blessings, we can live clearer in the moment, and trust the process.
Can we practice prayer in the good times as well as in the darkest times? Can we choose to keep God in the center of every aspect of our lives? Can we trust that when God closes a door, he will open a window? Maybe not even right away, but in his timing?
Once again, I anticipate baby's arrival and all the change that may come. I am unsure of just when I will teach again. But I take faith in God's timing and his plans for my family, future, and my role as a fitness and yoga instructor. As I pray over his plans for my children's lives, I also pray for the balance in my motherhood journey and take heart knowing Jesus makes life better.
I am so full of gratitude to be teaching again!!!
Trusting the process. And just listening to my body.
Trust your journey each day.
And above all continue to pray. May God continue to do his great work in each of us.