We believe Community Groups are an essential way to connect with God and with people and make our big church feel a bit smaller while building some long lasting community. These small groups of people are devoted to spending time growing in community by digging deeper into the weekly message, learning from other studies, and/or reaching out into their community by serving together. Community Groups provide you with the opportunity to build relationships while growing your group with the hope that they will multiply throughout Aurora and our surrounding communities!
---
CIRCLE UP GROUPS
Have you ever thought about joining a Community Group, but weren't quite sure what to expect? Join a Circle Up Group to experience what it feels like to be in community! During this 4-week study, you'll learn how being connected relationally will help you grow spiritually. And you'll talk about the surprisingly simple things you can do to make sure your group experience is a great one.

Circle Up Groups will meet for four weeks on Zoom on Monday nights, beginning September 28, to give you a glimpse into how much better life is when you Circle Up. Our hope is that you will build a foundation with your Circle Up Group to continue on as a Community Group!
COMMUNITY GROUPS
These small groups of people - based on things like location and life stage - spend time growing in community by either digging deeper into each weekend's message, learning from other studies, and/or reaching out into their community.
*All of our Community Groups are currently meeting online via Zoom for the foreseeable future. We believe that building community is essential, especially as we face an unprecedented time in our lives. If you haven't joined a group, now is the perfect time to find your community.
Click the Groups Directory Link below to find the better way to belong.
CONNECT GROUPS
God
designed us to be in relationship with one another. But sometimes, it's hard to find meaningful community. Connect Groups are designed to create space for us to find community and experience God through the things that interest you. Whether it's learning to be a better leader, foster parenting, or reading through a book together, we hope you can find a group that works for you!
SHORT TERM ONLINE GROUP
Join a group! These groups are meant to connect adults online as we continue to build community in the midst of the current COVID-19 crisis. We have groups for men and women, book groups, parent groups, employment groups and more!
Click the button below for more information and to get connected!
REGISTER HERE
GROUP LEADER TRAINING
SAVE THE DATE • Saturday, October 24
Details to come soon!
Are you passionate about cultivating community and using your gifts to help people grow in their faith together? Are you looking for a way to feel more connected at Eastern Hills and want to help others to feel connected too? Maybe you currently lead a group and are experiencing the richness of being in community. Join us this Fall as we gather together as leaders to learn about how we can lead and encourage others to cultivate community together.
RIGHT NOW Media
People at Eastern Hills have access to thousands of great videos that range from cartoons for kids to Bible Studies and in-depth videos...all for free!
To get connected or for more information on Groups, Contact Liz Pheteplace, Community Pastor.
---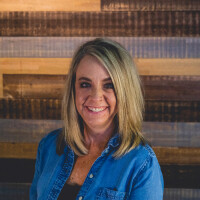 Liz Pheteplace
Community Pastor
E-Mail: