Women's Ministry
---
WOMEN'S CLASSES: REGISTER HERE
We offer life-stage focused classes that care, equip and encourage you in your faith journey. Whether you are a Christian or just checking things out we have classes and special events for you.
---
MOPS@EHILLS: REGISTER HERE
Specific Tuesdays • September - May
MOPS is Mothers of Preschoolers (kids age newborn–kindergarten) and is a grassroots movement that believes all moms are world-influencers. We connect moms all over the world to a community of women (in their own neighborhoods) who meet together to laugh, cry, and embrace the journey of motherhood.
---
GATHER WITH US: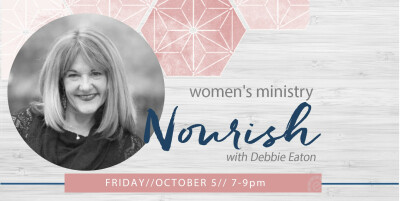 NOURISH • Friday, October 5 • 7–9pm • Auditorium
Cost $15, Get $5 off with registration before September 28.
Join us for an evening of nourishment with good food, community, powerful worship, and an encouraging message from Debbie Eaton. Here's a little more about Debbie:
Debbie loves people well. You can find her almost any day of the week at a coffee shop or gathered with a small group of women
in her home in Southern California. Many women across the country call her a mentor and a friend. Debbie is a wife of 30 years,
loves watching her newly-graduated son play football, and cares deeply about equipping the next generation to love God.
Childcare is available for kids ages newborn–11 years with registration with RSVP by Sunday, September 30.
---
Contact Liz Pheteplace, Women's Pastor, at for more information.