---
Are you looking for a place to connect with other women and learn to study God's word? This winter all of our Women's Classes will be studying the book of Galatians & Ephesians. Our classes are open to all women, whether you are new to studying the Bible or have been a longtime student. We have several options for you to choose from, so pick the one that best works with your schedule.
---
MOPS@EHILLS:
Specific Tuesdays • September - May
MOPS is Mothers of Preschoolers (kids age newborn–kindergarten) and is a grassroots movement that believes all moms are world-influencers. We connect moms all over the world to a community of women (in their own neighborhoods) who meet together to laugh, cry, and embrace the journey of motherhood.
---
GATHER WITH US
Nourish • Friday, January 24• 6:30-9pm • Auditorium• $15
Nourish is a special event hosted by Women at Eastern Hills just for YOU! Invite a friend or two and join us for a night to be seen, known, and loved for who you are. We can't wait to gather together to build community, worship, and be refreshed by encouraging messages from women just like you. Childcare is available for kids ages newborn-11 years with registration. Registration opens January 11.
Women's Retreat • Friday-Sunday, April 24-26 • Lost Valley Ranch, Sedalia, CO • Early Bird Price $299 through March 18, Regular Price $325
Do you find yourself feeling stuck in the places you feel broken? Do you feel like everything has to be fixed for you to be fine? Do you struggle with being hurt but not living hurt? What does it look like for you to believe in the goodness of God to find hope and wholeness in those hard places? Join us as we learn to be scared and brave, weak and strong in the same leap of faith - trusting in God to provide us with awesome possibilities in the midst of it all. Broken is what people are. Whole is what God makes them. Registration will be open from Saturday, March 7-Friday, April 3.
---
Contact Liz Pheteplace, Women's Pastor, at for more information.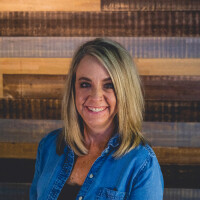 Liz Pheteplace
Community Pastor
E-Mail: